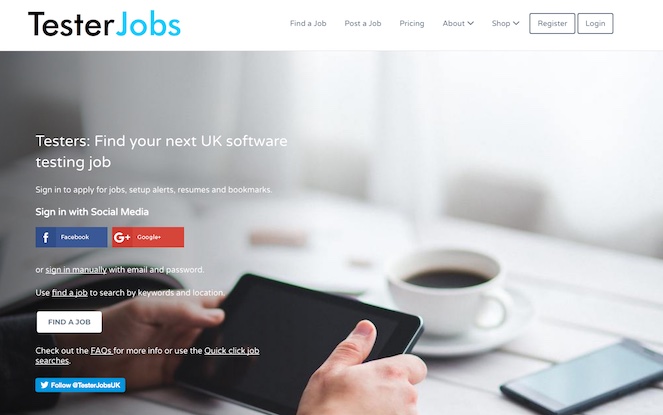 What is TesterJobs.co?
TesterJobs.co is a UK software testing jobs website I have launched, where software testers can search for jobs and employers can post jobs to find the software testers they need.
What are the TesterJobs.co USPs?
it's independent of any other job website or recruitment companies
it's serving the software testing community by providing a job marketplace
it's run by a software tester with lengthy experience in testing and the IT industry (me!)
it's serving a niche area — software testing jobs — and is not just another generic jobs board
I haven't seen anyone else doing something quite like this!
What are some of the cool features on TesterJobs.co?
Responsive – the site works fully on desktop browsers and mobile devices
Social Media Sign In – social media sign in lets testers use their Facebook or Google account to sign in
Find a Job – testers can find the UK software testing job they're looking for using a map and full search functionality
Quick click job searches – testers can also easily fire off job searches by job title, seniority or by location
Features for Testers – testers can setup job alerts, resumes and bookmarks – and apply for jobs they like the look of
Features for Employers – employers can post job ads and view stats to see how many people have viewed their job ads
Flexibility for Employers – employers have the option to post a job that links to their own company website or to manage the entire recruitment process within TesterJobs.co
Payment options for Employers – currently employers can pay for job ads using Stripe, PayPal or even bank transfer/BACS
What next?
Your feedback on the TesterJobs.co website would be very welcome, so it would be great if you could visit it on whatever browser, platform, mobile device you have to hand and see how you get on with using the site. Any feedback can be sent via the site or via email to info@testerjobs.co
Get connected
Twitter: https://twitter.com/testerjobsuk
and keep an eye out for the #TesterJobsUK hashtag
LinkedIn: https://uk.linkedin.com/company/testerjobs
Newsletter Signup https://eepurl.com/cWW6vT